Nikki's Dirty Movies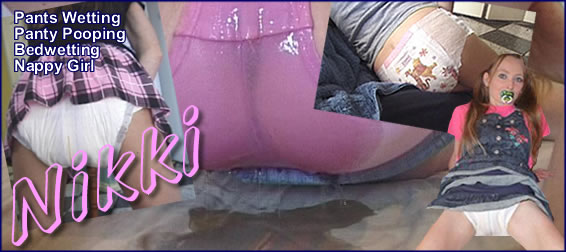 "Hi, my name's Nikki. I'm just a regular girl with a bit of a secret - I love to be a dirty girl as often as I can! I was a real bedwetter into my teens and secretly enjoyed wetting and messing my pants whenever I was alone in the house. My fantasies have always involved wetting my bed or panties, filling my knickers with lots of poopy and being put in nappies."
"I have made a series of clips myself showing the things I get up to when I am on my own and feeling naughty. I want to share my most intimate moments with you - when I'm home alone and feeling sexy, these are the naughty, dirty things I get up to! I hope you enjoy seeing them as much as I love making them."
Poopy Pampers

This time I've done a poopy in a real baby Pampers - it was a bit of a squeeze to get them on, and also a squeeze to push the poopy into them! But I liked the fact they were a bit tight, and the feeling of them holding the warm poopy tightly against my bum. And I liked how they felt heavier as they filled with poop, and hung down slightly between my thighs. Those are the kind of feelings that really do it for me and get me excited and turned on. I like how it feels when I move, and how the poopy squishes between my bum cheeks. But no matter how much I enjoy having the bulge in the back, I can never resist the urge to sit on it and squash the poopy on myself. It's really dirty to do that, but it's what I need to do and it makes me want to touch myself so much!
On The Way Home

This is for all of you who love to see the poopy slowly pushing it's way out into my panties and filling them up into a big bulge. Cos this time I'm wearing a pair of tight white cotton panties and the bulge forming in them is really clear and obvious! I've reenacted another game for you from when I was younger, and for those of you wondering - yes, I REALLY did this kind of thing! It's almost mind blowing now to think I'm showing everyone something that at the time was the biggest secret ever, and caused me a fair amount of guilt and fear of getting discovered. Anyway, I'm on my way home and cos there are friends staying over I haven't had any time to myself for days. So there's only one option left to play my dirty little games, and you're gonna see what it is!
Nikki's Dirty Diaper

I'd been eating lots and holding my poopy for several days, so I could do a really big load in my diaper. I nearly lost it a couple of times, and once even made a little poopy stain on my panties, but luckily the urge went away and I could keep holding on. I love it when I can do a really big poopy cos one of the best parts is feeling it spread sideways over my bum cheeks, all warm and sticky. That is such a turn on! And I love how it makes my diaper feel heavy, so it hangs down slightly between my thighs - especially after I do a big wee in it too. Mmmmmm! This poopy was one of the biggest I've done in ages and it felt wonderful. I had to lie down on the floor right where I was and play with myself. I love filling my diaper so much I don't think I'll ever be able to stop!
Good Morning Poopy

I really love the feeling of waking up in a soggy wet diaper, but it's even better when I feel that I need to do a poopy as well. It just makes me feel so babyish and brings back lots of wonderful memories. I love the warm feeling of the wet diaper bunched snugly between my legs and the full feeling in my bottom. I know I should be a big girl and get out of bed, but the desire to just lay there and let the poopy fill up the back of my diaper is just too strong. I know it's a dirty thing to do, but once the tingly feeling starts in my mini I can't help myself, and I have to do it. It's been that way for as long as I can remember. I'm a dirty baby and I always will be.
A VERY Dirty Day
!

When I decided to make a movie of me pooping in my jeans, I never thought I would get so messy! I started as I usually do, enjoying the feeling of the poopy slowing pushing it's way into my panties. I love how it feels when the poopy is half out and pressing against the back of my panties. It's such a turn on to leave it like that for as long as possible before the warm bulge forms and spreads sideways over my bum. But this time some of the poopy came out of my panties and into my jeans and I got all messy between my legs. I could feel my jeans sticking to me and I knew I was totally covered in poop! But I'm such a bad dirty girl that all I could think about was touching myself and masturbating to orgasm! Check it out!
Thursday Afternoons

Thursday afternoons were always really special for me... cos that's when I had the house to myself. I'd think about it all day at school and wriggle in my chair and plan what I was going to do. Sometimes I'd get into bed with my school clothes on and suck my thumb while I wet myself. Other times I'd wee my pants a little bit in my bedroom and then walk around the house enjoying the feeling of my wet pants... before wetting myself completely... pretending I was having an accident in front of my friends.
But the best days were when I needed to do a poopie... just like I do now!
Poopy Pullup

Nikki has to poop, and she's decided she doesn't want to use the potty- she wants to poop in her pullup diaper like a big baby! The bulge grows as she pushes out her poop while she kneels on the couch. It's a big poopy too! Nikki gets very excited as she squishes the messy poopy inside the pullup, and loves the way it squeezes out the sides. As she squashes the poopy load all over herself, Nikki tells two true stories about how she pooped her diaper when she was younger - the secret game she often played after school, and a time when she stayed with her cousins.
Check it out!
Dirty Dishes, Dirty Panties

Nikki has set herself a poopy challenge. She's busting to go, but she can't, not until she's washed this sink of dirty dishes! The urge to go is just too much, and Nikki has done it again- pooped herself in the kitchen. What a bad, naughty, dirty girl she is. The feeling of her heavy pink panties is just too good, she cant resist the urge to sit on her messy bum and squish the poopy all over the place. She is so turned on by her sexy mess that she just has to masturbate right there on the kitchen floor!
Check it out!
I'm A Dirty Girl

Nikki has been a naughty, messy girl for as long as she can remember. When she is alone in the house one day, she can't resist the urge to fill her little panties with poopy. She knows it's very naughty, but she can't help herself! It makes her very excited. Watch as she makes a bulge in her pale pink panties, squishes the poopy all over her bottom, then masturbates as the poopy spreads out over her knickers. Nikki is a very messy, dirty girl indeed!
Check it out! Page has been viewed 557 times..